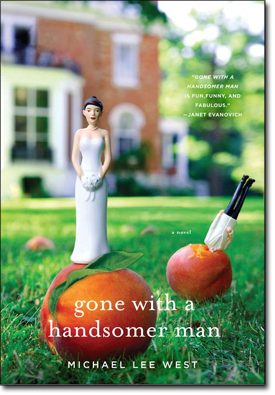 Praise
"Full of dramatic action, clever red herrings, and humorous moments, this debut mystery by a well-regarded novelist (Mermaids in the Basement; American Pie) will please any reader but particularly fans of Jennifer Crusie or Mary Kay Andrews. [See Prepub Alert, 1/21/11; with a 75,000-copy first printing; author tour.]"—***Starred Review***
– Library Journal, Stacey Hayman, Rocky River P.L., OH
"GONE WITH A HANDSOMER MAN is hilarious, endearing, and tasty!"
– Diana Gabaldon, New York Times bestselling author of the Outlander series and Lord John books.
"West's diverting debut plays nice variations on several mystery subgenres—Southern, romantic, screwball, culinary… Readers will look forward to more helpings of Teeny Templeton."
– Publishers Weekly
"Gone With a Handsomer Man is fun, funny, and fabulous."
– Janet Evanovich, NYT bestselling author of the Stephanie Plum series.
"Michael Lee West fans rejoice! Gone With a Handsomer Man has a fresh, funny and delightfully flawed heroine that you'll fall in love with from the get go. Teeny is a trouble magnet, and it is wholly diverting to follow her tumbling joyride through bad men and good recipes. By turns sweet and surprising, it's a wonderful quirky escape."
– Joshilyn Jackson, NYT bestselling author of Backseat Saints.
"Great cook – thought reluctant detective – Teeny Templeton keeps the pot bubbling as she dishes out pathos, humor, and intrigue in equal measure. Gone With a Handsomer Man is a delicous debut to this new series."
– Lee Smith, NYT bestselling author of The Last Girls.
"Plese tell me she is writing a sequel!! It was a wonderful read from beginning to end. And the last sentence only left me wanting more."
– Wanda Jewell, Executive Director of SIBA.
"Teeny Templeton is small-statured and big-hearted, a heroine worthy of this novel, which is by turns acerbic and sweet, poignant and funny, whith great sex, bad boyfriends, and Do Not Try This At Home recipes. However you slice it, Gone With A Handsomer Man is as addictive as Red Velvet cake. I hope it sells as many copies as that other novel set in the South that starts with the words "Gone with.'"
– Harley Jane Kozak, Agatha, Anthony, Maccavity award-winning author of Dating Dead Men and A Date You Can't Refuse.
"In a story as delicious as the food she describes, Michael Lee West introduces us to characters I want to invite over for dinner. Sprinkled with startling insights, Gone With a Handsomer Man, exposes secrets soaked with humor, mystery and redemption."
– Patti Callahan Henry, NYT bestselling author of Driftood Summer.
"Michael Lee West turns her considerable storytelling gifts and her keen wit toward Charleston, where a lovable Teeny Templeton must negotiate romance, murder, and mayhem, all in the midst of polished cotton, poison, and fine southern cuisine.
Gone with a Handsomer Man
is sometimes funny, sometimes frightening, and always absolutely delicious!"
– Darnell Arnoult, author of Sufficent Grace