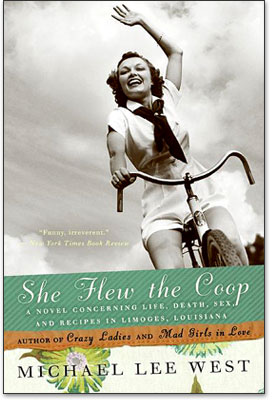 Praise
"In this funny, irreverent story, she also gives us a cast of characters who share their firsthand views on the delicious dramas of everyday life."
-New York Times
   "Only a book conceived and executed as well as this one can carry the rhythms and pauses, the smells and tastes and languor and the very continuity of a Southern town and its people, at once flawed and gracious. Well worth a detour."
-Los Angeles Times
"West has created a whole world, southern in its recipes and manners, small town in its gossip and interconnections, and utterly individual in the characters, who are so teeming with life you would have to stand back to create some breathing room if you met them."
-Washington Post
"The characters are lovingly and humorously drawn so that even the most stupid and venal -- Henry Nepper has our vote, but there are other contenders -- have redeeming qualities.
She Flew the Coop
is a fast and funny summer read."
-Chicago Sun-Times
"Comedy and tragedy are wedded in this luscious novel about marriage, hypocrisy, small-town Southern life and the 1950s."
-South Florida Sun Sentinel
"The story is told with perfect pitch by many voices, including those of transplanted New York artist Edith Galliard, widow-magnet funeral director Cab Beaulieu, and long-suffering black housekeeper Sophie Donnell. . . . The author of the acclaimed
Crazy Ladies
has captured the color, eccentricities and tragicomedy that the best Southern writers do so well."
-Publishers Weekly, starred review
"Poignant and subtle, humorous and direct, West's work represents a cross-section of small-town life in the South. Recommended for general collections."
-Library Journal
"With its biblical overtones and its rich mix of gossip, recipes, and heartache, West's tragicomic second novel offers a gripping narrative and lays open the joy and the despair at the core of life in a small town or, for that matter, anywhere at all."
-Booklist