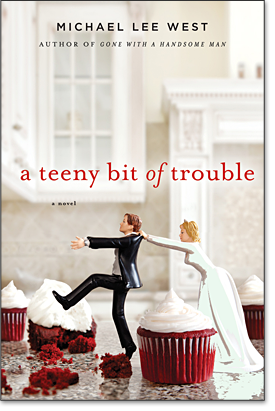 It's a recipe for disaster…

After Charleston pastry chef Teeny Templeton witnesses a murder, she discovers that her lawyer-boyfriend, Coop O'Malley, has been keeping secrets. And then even more trouble comes knocking at her door—trouble in the form of a precocious ten-year-old girl who might just be Coop's daughter. As more lies explode, Teeny finds herself trapped in Bonaventure, Georgia, a zany "little Savannah," where she must gather DNA from a child genius, as she tries to outwit a stalker, decode an encrypted diary, and fend off the advances of an ex-beau.

That calls for Anything-You-Say-Can-Be-Used-Against-You Quiche

And just when she thinks her life can't get any more complicated, a series of not-so-teeny troubles arise, including an uneasy love triangle, a gossip-mongering tarantula breeder, a wise-cracking Southern Belle with early Alzheimer's, Coop's loveable Chihuahua-toting granny, and clues that point to something truly deadly going down in this charming southern town.

Served with You-Have-The-Right-To-Remain-Silent Salsa

But when a suspect is arrested and the bodies keep piling up anyway, Teeny doesn't know who to trust. As the murderers close in, Teeny unearths a revelation that threatens to flip her whole world upside-down.

With Teeny Templeton, you'll want to save room for dessert!